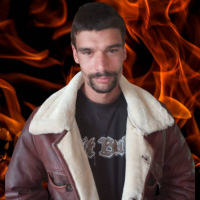 B.J Starink
Suspense, Fantasy, Horror, Children's
Profession

Road building self-published/published author
Well people to be starting with check out my new children's project: Https://theboogeymansclub.com
I'm working on a domain name, and I'll get it when the website get a bit more traffic

Hi, I'm B.J Starink and well I'm a author of several bestsellers like the In Love series De In Liefde Series Stormie in Dutch and english and my very first book Onbekende Neigingen!
And I'm a writer of Psychological Horror books. And Horror/Fantasy books. Well, anything horror-related. Or something like that, you know?

And I'm The Supreme Boogeyman too the founder and boss of theboogeymansclub.com
So yea I'm a author of the 18+ horror as well as the horror children books I'm just all out horror 😂.....

So please check out my children book project too:
Https://theboogeymansclub.com
Https://deboemannenclub.nl

Last is to thank you for your time
So thank you all for stopping by without your help I'm nowhere, so thank you a lot for your support... Every last one of you guys are appreciated for just how you are..
And well have a nice day/evening or night.
Video
Book promo #Stormie get hyped!
The past will never close nor will it turn into the future while the future has never been decided without a lived past!
B.J Starink